Join the USNA Parent Club
Membership in our club is open to all families and friends of the United States Naval Academy, Appointees, Midshipmen, Graduates of the Academy, Blue and Gold Officers and anyone interested in supporting the Mission of the USNA Parent Club.
There are many benefits to becoming a member of our organization including Naval Academy insight, experience, friendship and support of our Midshipmen and one another.
New & Renewing Members
Membership Information
The USNA Parents Club of Georgia is a great way for you to get to know other Georgia Midshipmen parents. At meetings and other gatherings, you can share your experiences with other parents and get informed answers to your Naval Academy questions from parents who have "been there." Membership will make your experience as a parent of a Midshipman more enjoyable, and it will help you and the Georgia Parents Club provide appropriate and meaningful support for your Midshipman.
Membership Benefits
Annual Welcome Aboard Picnic
Social Meetings
Annual Georgia All Academies Ball
Newsletters
Football Tailgates
Fundraising Events
Dark Ages care package sent to your Midshipman
Annual Dues
$50 for a 1 year Midshipman family membership
$90 for a 2 year Midshipman family membership (for 2nd Class)
$135 for a 3 year Midshipman family membership (for 3rd Class)
$175 for a 4 year Midshipman family membership (for Plebes)
$25 for a LIFETIME Fleet Officer family membership
If you are a new member or a current member renewing your membership, please complete the form below, then click on the PayPal button below to pay your membership dues.
The below button will redirect you to PayPal, where you will enter the correct amount for the membership level you have chosen above.

Name Tags
If you would like to order a name tag to be worn at our local club events and while visiting the Academy, please fill out the form, linked below, and then use the Buy Now button to pay for the nametag.. They are only $20 each and have a magnetic back clasp.
The below button will redirect you to PayPal, where you will pay for the name tag.

https://www.paypal.com/cgi-bin/webscr?cmd=_s-xclick&hosted_button_id=AFGWXLA5VMLHS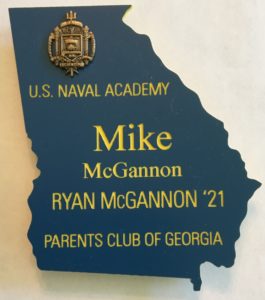 Join the USNA Alumni Association
All parents of present and past midshipmen are eligible to become members in the Alumni Association. Membership is the best way to stay informed about the Naval Academy, get great benefits and help support your midshipman, both during their time at USNA and after graduation.
Join or Renew Membership for the USNA Alumni Association