Sculptured Watercolor Prints
The USNA Parents Club of Georgia presents two beautifully crafted sculptured watercolor prints penned from carefully selected  landmarks of the Naval Academy yard. Each 18″w by 9″h fully matted and framed print features elevated art, providing a 3D appearance. The artwork can be customized with your Midshipman's name, graduation year, and class motto for an additional fee if desired.  All proceeds from the sale of these  prints directly benefit the Georgia Parents Club mission to provide support and encouragement to the young men and women from Georgia in the Brigade of Midshipmen. These sculptured water colors would make a wonderful keepsake for your Mid's time "by the bay"! Great for holidays, birthdays, and commissioning gifts!!!!
Note from the artist: The artwork was created by hand using pen, ink, and watercolor.  The paper is hand cut and layered to give the work a creative three-dimensional appeal.  The image is 3.5″ x 12.5″ and is framed with a blue/gold mat in a 9″ x 18″ quality, black metal frame.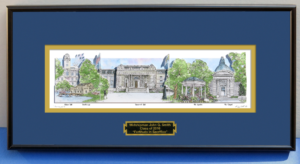 ​Annapolis
With Personalization – $110 ($90 for framed print plus $20 shipping)
Without Personalization – $90 ($70 for framed print plus $20 shipping)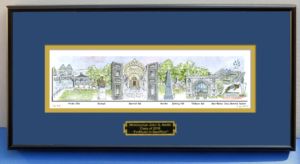 ​The Yard
USNA Parents Club Of GA Special
Purchase Annapolis & The Yard as a set with personalization for $200 
(includes shipping) or without personalization for $160 (includes shipping).